My mom's birthday is coming up at the end of June, and I've been searching all over for the perfect fabric to make her something (thinking table runner? Or maybe a Kitchen Aid cover? I better figure that out!).
She really loves depression era prints and I found the perfect one!
Robert Kaufman's Lazy Daisy Baskets 2!
She is going to LOVE it!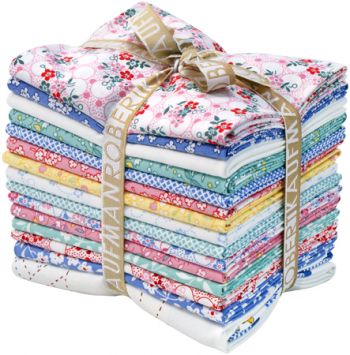 I made a quilted table runner about a month ago for a co-workers birthday. I was so happy with how it turned out!!!
I absolutely LOVE paper piecing. I used a the pattern for the Ohio Star from the book,
50 Fabulous Paper Pieced Stars
. There are a lot of pieces involved, but the result was totally worth it! :)
I decided to use three different Batik fabrics because that is what my coworker really loves. I used Kona White for the rest so that I wasn't taking away from the beauty of the stars :)
I also took the time to hand sew my binding (I hate hand sewing!) I think it was definitely worth it though, because I love the way it looks! I also did my first mitered corners and was pretty pleased with how they turned out.
My fabrics for my mom's gift are scheduled to arrive on Friday, so I need to hurry up and decide what I want to make her! Hopefully I'll be back to share that soon :)